If you're a true poker aficionado then you can surely name the different variations of this popular game. There are essentially several variations of poker and you can find these free poker games online. You can also check out online casinos with their comprehensive menu of free casino games. With all these variations, the casual poker player will never be bored. Below are the different poker games you can find online: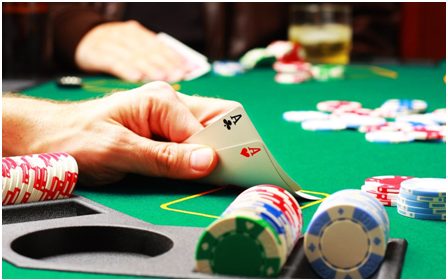 1. Texas Holdem — this is the variation that's taking mainstream media by storm with all those tournaments being shown live on television. Texas Holdem makes for great entertainment because the action does not stall. Holdem has two hidden hole cards (your cards) and five exposed community cards. Popular online pokers sites for Texas Holdem are:
www.888poker.com ; www.williamhillpoker.com and www.fulltiltpoker.com .
2. Omaha — has all the rules of Texas Holdem except for one variation: you get four instead of two hole cards. Omaha poker action is more intense because of all the possible combinations you can achieve with your four hole cards. You can actually just use two hole cards, but you can maximize your winning with all four cards (think easier full houses and flushes). Popular sites that offer Omaha:  www.pokerstars.com ; www.lotospoker.com and www.pokermira.com .
3. Stud Poker — this is the classic poker variation you see played on old TV shows and movies (think Maverick and the Sting as examples). Stud poker is considered a classic, and gives players a chance to read their opponents' non-verbal expressions (called a 'tell').  Sites that have stud games:
www.titanpoker.com ; www.bwin.com and www.partypoker.com .
4. Seven Card Stud — same as stud poker but with seven cards instead of five. After the first round of betting, players can draw cards to form their combinations. Sites that offer seven card stud games:
www.titanpoker.com and www.pokerstars.com.
5. Razz — this variation literally puts the game upside down. It's still has the same rules and rounds of betting as Seven Card Stud poker but instead of the highest possible hand winning, it's the lowest possible hand that wins the pot. Here are two online poker sites that offer Razz poker:
www.pokerstars.com and www.ladbrokespoker.com .
6. Crazy Pineapple — think of Crazy Pineapple as Texas Holdem's crazy half-brother. Crazy Pineapple poker plays out similarly to Texas Holdem except that you get three hole cards instead of two. So it's in between Holdem and Omaha, but just as fun as the other two variations. Sites that have Crazy Pineapple games: www.bwin.com and www.redkingspoker.com .
7. Heads Up Poker — gaining popularity these days is Heads up Poker. It's Texas Holdem one on one. When you enter a game, it's just you and your opponent. If you've ever played Holdem and you've eliminated everyone else except the last player then that's Heads Up Poker. Strategy sometimes gets thrown off the table when it's Heads Up time. Some sites to offer Heads Up Poker:
www.titanpoker.com ; www.pokerstars.com and www.williamhillpoker.com .
8. Badugi — is a new variation that's gaining recognition. Badugi tweaks the Holdem rules a bit by giving players 4 hole cards instead of two. And players can trade zero to four cards from the deck in each drawing round. Here are the sites that have Badugi:
www.pokerstars.com ; www.fulltiltpoker.com and www.888poker.com.
9. HORSE Poker — the letters are actually an acronym for (H)Holdem; (O)Omaha; (R)Razz; (S)Seven Card Stud and (E) Seven Card Stud Hi-lo Split Eight. HORSE Poker plays out all these variations in rounds. So you start with Holdem in the first round, then Omaha in the second, and so on. HORSE requires players to constantly change strategies to fit the variation per round. Here are sites that have HORSE Poker: www.pokerstars.com and www.888poker.com.
10. Strip Poker — might not need a lot of explanation. We're sure you understand the rules for Strip Poker quite well. Maybe you've played Strip Poker at one point in your life (though you're just afraid or embarrassed to admit it). The objective of the game is to come up with the best hand and win the other player's chips. Once they run out of chips they can buy more by trading a piece of clothing. A player loses when they put on their birthday suit.
There you have it: 10 different poker games you can play online. With this long list of poker variations, the poker enthusiast in you will have one hell of a time learning and playing these games. Enjoy the game and we hope that you get to keep your money (and your clothes).